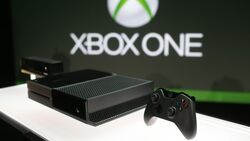 The Eig
th generation of console and third Generation of Xbox was revealed on May 21st at 10:00 PST (Pacifc Standard Time) and 18:00 GMT (Greenwhich Mean Time). There had been much speculation. Some said it was going to be called the Xbox Durango, others the Xbox Infinity. But on May 23rd it was revealed to be the Xbox One.
The announcement starts with the CEO (Chief Executive Officer), Steve Ballmer he says "well were finally here again after eight long years, ladies and Gentleman, I give you Xbox One! Then the screen chnages to a picture of the new console, Kinect 2.0 and controller
After the short video they start to show the Hardware they had put into Xbox One. * And to be different from Sony they showed the console, Kinect and controller in another short video.
When that video was over they moved onto the entertainment capabilities of Xbox One with things such as Skype, Twitch and a live Xbox One tv service exclusive to Xbox Live Gold. They then showed off the features of being able to do 2 things at the same time and the intergration with computer, phones and tablets that use Windows 8.
After that they announced a few games such as Quantum Break which they introduced with a short live-action trailer and 343 industries announced a Halo TV series that is to be directed by the legendary director Steven Spielberg.
It finished upon announcing that they bwould reveal more at the Microsoft conference at E3 2013
Section heading
Edit
Write the second section of your page here.