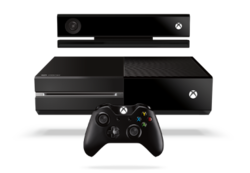 This page will go throug the xbox one console, Kinect 2.0 and the controller all revealed at the May 21st Console.
Console Specs
Edit
8GB RAM
5 Billion transistors
Blu-Ray disc drive
8 core CPU and GPU
Intergrated 802.11n
500 GB HDD storage capcity
7.1 surround sound
No Backwards Compatibility
Kinect 2.0 Specs
Edit
2 GB processing power
1080p HD camera
Greater accuracy than Kinect 1.0
can track 6 people at once
stays on even if the console is turned off
Needed for the console to work
Controller Specs
Edit
No start and back buttons
Compatible with the Kinect 2.0
New Joysticks
More accurate D-Pad
Ad blocker interference detected!
Wikia is a free-to-use site that makes money from advertising. We have a modified experience for viewers using ad blockers

Wikia is not accessible if you've made further modifications. Remove the custom ad blocker rule(s) and the page will load as expected.